Cimmaron Brittanys - our Foundation Dogs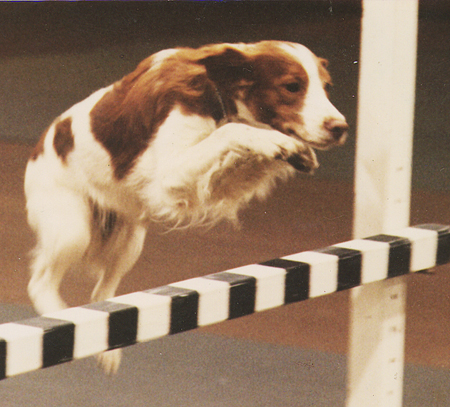 Ch Evansport's Brand Wine UD
"Brandy" was our first titled Brittany. Brandy was purchased from Joel Evans of Evansport Brittanys, out of Milwaukee, Wisconsin. Brandy and I tried it all from Obedience to Conformation, even tracking ("Brandy" enjoyed that more than I did. which explains way she has no TD).

"Brandy" earned her first title at just six months and three weeks, she earned her CD (Companion Dog Obedience title). Brandy went on to become my first multiple Best of Breed winner and group placing special, with her first point being a Best of Breed, with a group four attached to it in the afternoon. Additionally she earned her CDX and UD obedience titles. "Brandy" was an outstanding producer: ten Champions, multiple obedience title holders, a high in trial winner, as well a field winner!  What a great way to start. (ABC ROM)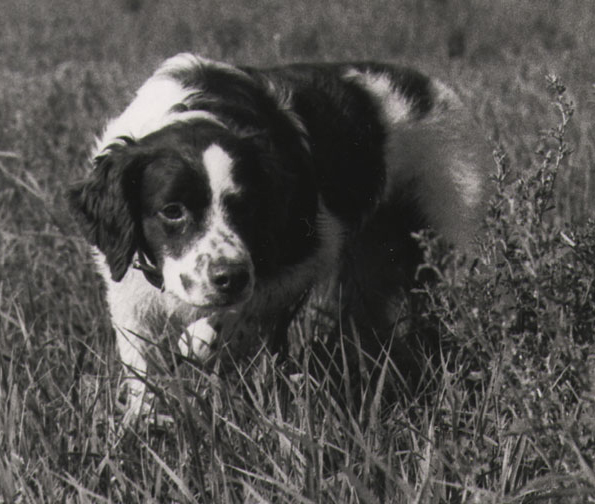 DC Cimmaron's Chevis Regal UD
Chevis was from our first litter and became our first Dual Champion. (Both a Show and Field Champion.) Chevis was a liver and white male and is the only male in the history of the breed (at the time) to achieve a Dual Champion UD which is all 3 levels of obedience titles, plus his show & field titles. He competed until he was almost twelve. Chevis was capable of doing all that l asked of him. A true versatile Brittany.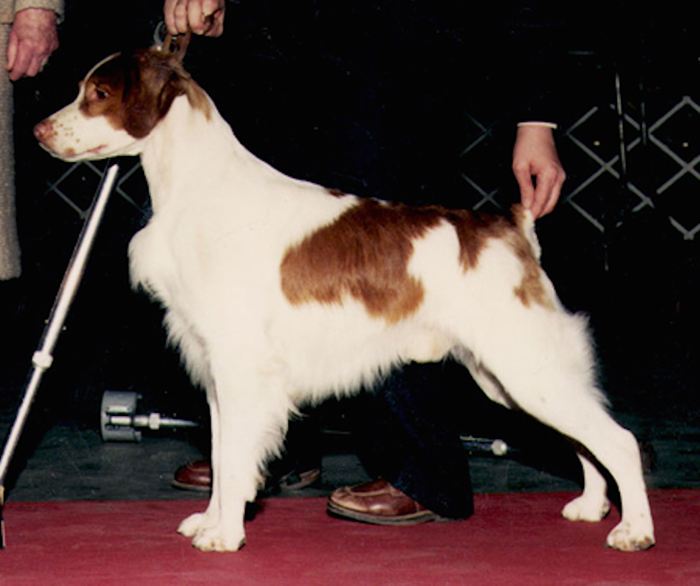 Ch Cimmaron's Hennessey Blend
Hennessey was our all-time winning male Special. He was a Specialty winner, with multiple Breed wins in addition to numerous Group placements. He was a Brandy son and is the sire of Ch. Cimmaron's Tapestry Rose' CDX. He was that once in a lifetime dog.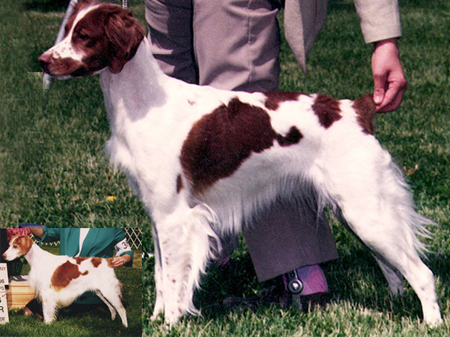 Ch Cimmaron's Timeless Tiffany
"Tiffany" was sired by National Show Champion Greenfield's Le Duc De Canelle. "Tiffany" was an elegant bitch who could compete against the best, twice defeating Best in Show males. She finished out of the bred-by-exhibitor class.  Tiffany too, was a a multiple Breed winner with group placements. She is featured in Maxwell Riddle's Book, "The Brittany". She is the mother of Ch. Cimmaron's Tapestry Rose' CDX and the sister to Ch Cimmaron's Storm Cloud, a national show BOB winner.  Tiffany is shown in the lower left with her sire's owner: Agnes Rodrigues, when "Tiffany" was just shy of her 14th birthday!

Ch Cimmaron's Tapestry Rose' CDX
"Tapper's" story is just short of miraculous... I had started showing her, but had an opportunity to place her in a show home, where somehow she managed to escape her fenced yard.. after posting flyers, I was fortunate enough to get a call five weeks after she had been lost by someone who saw our flyer, and with the help of the local police and postal workers, narrowed down her location.  A week later I found her, brought her home. After a brief settling back in I was able to complete her show Championship with two Specialty Winner's Bitch wins, then we went on to compete in obedience, ranked in the top ten for both her CD and her CDX. She has been an outstanding producer, the dam of two Dual Champions, eight show Champions and an Obedience title holders. She was my "Ashly's" mother. (ABC ROM)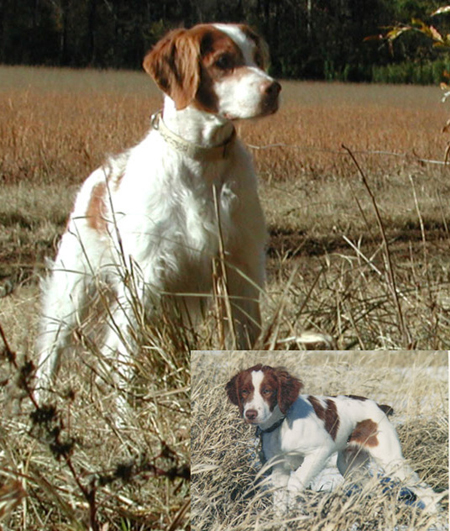 DC Cimmaron's Benchmark
"Ben" was always one of my favorites. His up beat temperament and his ability to produce he always made me proud.  "Ben" finished his show Championship from the bred-by-exhibitor class at 18 months with three majors as he was competing in local field trials.  He had Puppy & Derby points while handled by John Nickence, then went on to win a five point Open All Age stake in Ardmore Oklahoma with Marc Appleton. He finished his Field Championship with a four point Open Gun Dog win at the Sooner (Oklahoma) Trial on the whistle of Bunny Green. He is missed but remembered in his many offspring who have given me great joy. He is the sire of our Ch Cimmaron's Set  'Em Up Joe CDX and Cimmaron's Side Car, plus many more.  The picture on the lower right was taken at 16 weeks. (ABC ROM)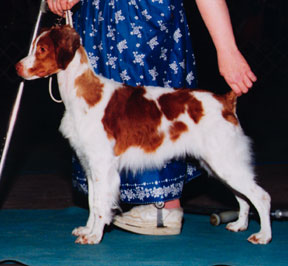 Ch Cimmaron's Absolut Lee Ashly CDX
"Ashly" was my personal pleasure. She was always been my special girl even though she has always a challenge. From her antics during her show career (including fly-catching in the Sweepstakes ring) to her ability to compete in upper level Obedience competitions, Ashly has always found new ways to surprise me. She is my one & only.  Shown her at 12 winning 1st place in Open A with a 196 + in a class of 18!  Not bad for the old gal,  She was rank in obedience for both novice and open. She will never be replaced and for that my husband is grateful.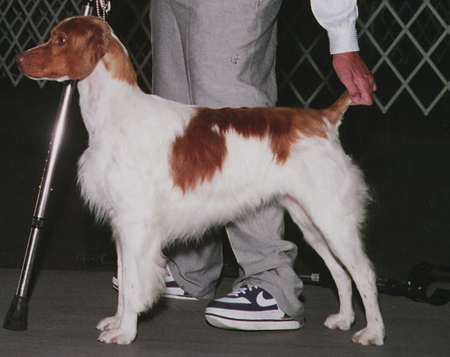 Cimmaron's Side Car
"Cider" is small in stature, with great bone, and a terrific ear set. She is pretty much a one woman girl. A tough girl who throws some beautiful pups -- she is Joe's sister. She is the mother of my Charlee. She is a Nikki - Ben daughter. (ABC ROM)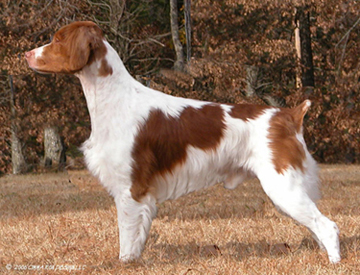 Ch Cimmaron's Set 'Em Up Joe CDX - (ABC - ROM)
The best way to describe Joe is just that he was a great dog! He is full of life and reminds me so much of his dad "Ben" in attitude. Joe finished from the bred-by-exhibitor class, he was my buddy throughout his entire life. He has sired so many puppies with so many different abilities and qualities. From group winners to Master Hunter, to MACH pups, but the job he did best was my constant companion. (ABC ROM)
(ABC ROM) means that per the American Brittany Club the dog has met the qualification for outstanding male or female producer.