For those looking for Cimmaron Dog Art website
Click Here!
Cimmaron Brittanys | Breeder of American Brittanys | Gold AKC Breeder of Merit
Breeding Quality Brittanys for over FOUR decades!
AKC Gold Breeder of merit.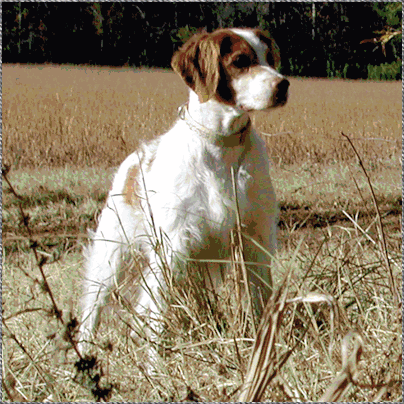 ©Cimmaron Design LLC

Cimmaron Brittanys was established in the late 1970's, in Illinois. I, currently reside in Ramah, Colorado, part of Elbert County, near Kiowa, Colorado with prior addresses in, Wisconsin, and Nebraska, and Illinois.

Our Brittanys have competed at every level form Shows to Barn Hunts. Our dogs are bred to do it all from Field Trials to Hunt Test. Agility and Obedience. As a Brittany Breeder I have breed Group winning Brittanys as well as loving pets. I usually bred one or two litters annually. If you are looking for a puppy, and we do not have a Brittany Puppy for you, I normally know of other Brittany pups available through out the USA. Our Brittany puppies are home raised and vet checked so you can be assured of the best care of your new Brittany pup. Over the past 40 years have held offices from show chair to to first VP (field Trial Chair) held offices for both La Salle Brittany Club and Greater Milwaukee Brittanys Club. I am the former American Brittany Club National Specialty Show Chairperson, a position held from 2008 - 2012.

Call us at 720 448-4927 when you are ready for a quality Brittany, from an established AKC Brittany breeder of Merit (GOLD).
GOLD AKC BREEDER OF MERIT

Established in 1978 Experienced - Knowledgeable