What to look for when buying a puppy.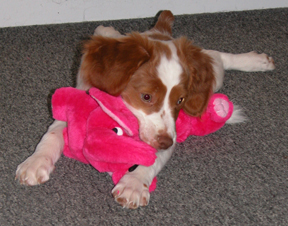 Selecting a puppy that is just right for your family is an adventure well worth following a couple of guidelines. In this space, Cimmaron Brittanys offers a sort of road map for you or a friend contemplating the purchase of a puppy or young started dog.
When choosing a puppy, either a Brittany or any other breed, you have many things to consider. First, be as cautious as you would in selecting any prospective roommate or long term guest. Learn about the breed and its characteristics. Be certain the breed and its temperament fit in well with your home and family. Consider the longevity of the breed — our Brittanys normally live 12 to16 years.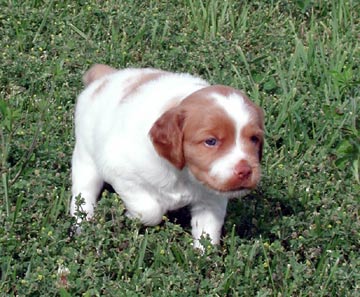 Identify and select traits important to you, then rank desirable characteristics in order of importance. You may discover your needs will direct you to a different breed entirely. Once you have decided that a Brittany is right for you, your next step is to find the right breeder.
Remember that all breeders are not equal. AKC registration does not insure quality; it should insure the basic look of the dog. You can begin your search by contacting the American Brittany Club to ask for a referral to your local club.
Not all good breeders will belong to any one organization and you may need to go visit a show, check with your local veterinarian or feed store to see who may be a match for your family's needs. Order a magazine or two to from the National breed club to gain more information about the breed and breeders. While you are waiting to find your new best friend, arm yourself with some books about training.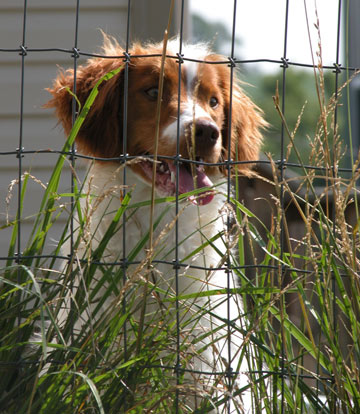 Be aware the Brittany does require some grooming to maintain a cleaner, healthier dog. Keep the inside of the ears cleaned out and free of excessive hair. The tail, along with the feet, should be kept trimmed to the natural shape. If you feel comfortable with clippers, an occasional neck trim keeps the Brittany looking neat and handsome.
The Brittany is a medium-sized dog, with a shoulder height of approximately 17 1/2 inches to 20 1/2 inches. The Brittany is an energetic dog, capable of hunting heavy cover and offering companionship on a cold and snowy night. They are quick and bright, and they love game. They are best maintained with a fenced yard. The Brittany is good with children and a family lifestyle, but needs an environment with some controls. They are full of life, and although they mellow somewhat at around two or three years of age, Brittanys will remain active throughout most of their lifetime. If you are interviewing several breeders, do not be afraid to ask questions.
Will they provide their guarantee in writing?
Can they supply you with references?
Can you see the puppies and at what age?
Can you visit more than once?
What shots are included?
Have the puppies been wormed?
When will your AKC papers be released to you?
If, when you pick your breed and breeder, you discover there are no puppies currently available to get the right addition to your family, it is best to WAIT. It will be worth it, you need to remember you will have your companion for years to come.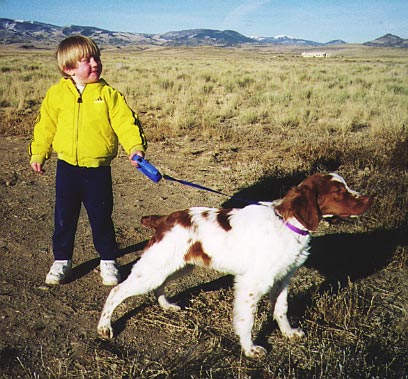 If you are considering a rescue dog, remember that many of these dogs do not have a known history and may come with additional needs and requirements. The reason they are available is often not known. Sometimes the reason could be as simple as the previous owner not being aware of the breed requirements or it could mean a problem puppy that they did not take the time to work thru. Ask what is known. Remember these dogs are not checked for hip dysplasia, but are vet checked. A responsible rescue organization will to adhere to a neutered only policy. The purpose of rescue is for the rescue of pure bred Brittanys. In my opinion additional pure bred policies as per National parent club, breeder ethic programs need to addressing poor breeding practices. Involvement in developing procedures that would advocate stronger breeder responsibility could play an important role in future of the breed.

I admire the concept and as with anything please take the time to investigate the rescue group the same as you would a breeder. All organizations and breeders have differing opinions and policies.
The Brittany needs an environment with some controls. Our puppies are whelped and weaned in our home for socialization and complete supervision. They receive one set of shots (DHP & Parvo). Are vet checked twice by our local vet. AKC papers are done as a complete litter at no additional charge to you and are sent to you by AKC. Some of our adults are maintained in clean, heated indoor-outdoor runs, with some living as permanent house guests. Our main stock is permanent and once used for competition, becomes part of our on-site breeding program. We normally have two to four bitches of different ages along with two males. All of our stock has met the requirements for some type of competition as this helps determine the biddability and talent of our breeding stock. All breeding animals are OFA (Orthopedic Foundation for Animals) certified, most are also DNA certified. The majority of our breeding uses outside stud dogs as we breed to improve our base stock.